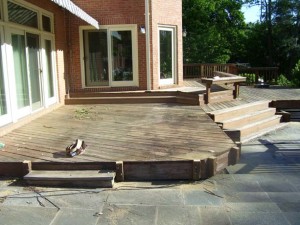 Now that summer is officially here, there are a few things you can do to make sure your home is as ready for summer as you and your family are.
Before tackling any major home remodeling or renovation projects, these 6 simple tips can save you save you money for that summer vacation.
If you have an attic fan, make sure it's working properly before the first 90 degree day shows up.
Power wash and stain your deck.
Check your siding, windows and roof for rotting wood, loose shingles and any damage, the harsh winter and spring rain may have caused. It's better to catch these before they become large problems.
Clean or replace air conditioning filter, and wash or replace ventilation system filters if necessary. This will keep your AC system working at its fullest potential.
Check your weatherproofing and make sure everything is in tact. If you had weather stripping on doors and windows to keep cold air out during the winter, make sure it is keeping hot air out in the summer. Quality weatherproofing will cut down on electricity bills in the summer.
Check for cracks in asphalt or concrete driveways and walkways. Repair or reseal them before winter, when water can freeze and expand in the cracks, creating more damage.
Toward the end of summer, it's best to schedule a service call to have your furnace checked before the first cold day of fall or winter.
We'll be sharing more tips for each season, as they approach. HomeNet Solutions and the home remodeling companies in our network are always here to help you find the right contractor for the job no matter what time of year in Philadelphia and the entire Delaware Valley.